PARTIES | WEDDINGS | EVENTS

Since 2008, Rudeboy Riddimz Entertainment has provided quality Mobile DJ Services to businesses, organizations, and families all over Oahu. From Military Balls, to wedding receptions and company functions, our ability to provide a fun, and exciting musical experience has been the hallmark of our services. Book Us Today, and allow us to create the right musical soundscape for your next event, your most special of days, or your annual functions.
Oahu has one of the most culturally diverse populations than any other place on the planet, and our huge musical database reflects that. We can provide musical entertainment for almost any type of event, whether your guests tastes in music crave Island (from the days of steel records to today's top local artists), Era Music from the 50's, 60's, 70's, 80's, or 90's, today's Top 40 and Pop hits, Hiphop, R'n'B, Reggae, Dancehall, including music from the islands of Samoa or Tonga, K and J-Pop, Filipino Pop, Ballroom Dancing and Line Dancing music, Reggaeton, Salsa, Tejano, Bachata, yes, we have something for everyone!
Hiring a DJ can be stressful. We make the process very easy, with easy-to-understand Service Agreements, and face-to-face communication. Payment can be handled in numerous ways, to include some of the latest merchant portals, such as Zelle, Cash App, and Stripe. An initial deposit of $100 for services below $500secures your date for services!Certificates of Insurance are available upon request, and our equipment is professionally maintained to ensure it is always in excellent performing condition!
WELCOME TO RUDEBOY RIDDIMZ ENTERTAINMENT!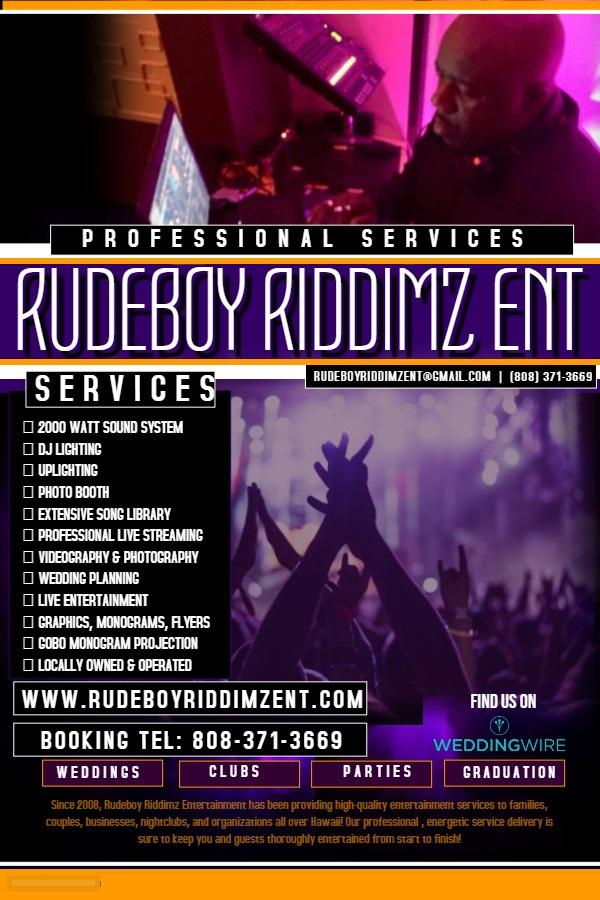 MOBILE DJ SERVICES
PHOTO BOOTH SERVICES
DJ LIGHTING AND EFFECTS
VIDEO PROJECTION SYSTEM
GRAPHICS / FLYER / ANNOUNCEMENT DESIGN
PROFESSIONAL LIVE VIDEO STREAMING (MULTIPLE ANGLES)
HEAR SOME SAMPLES OF OUR DJING